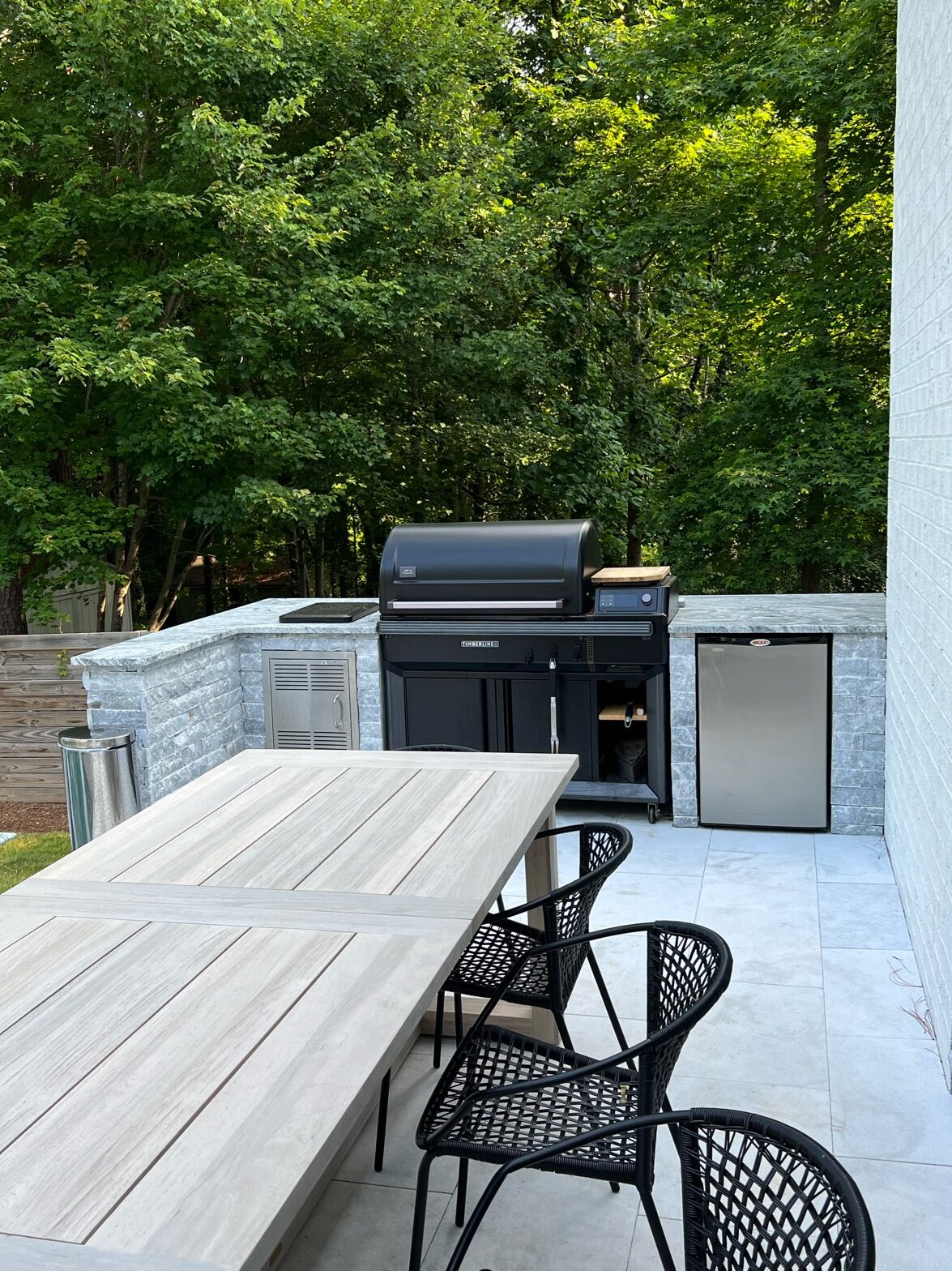 Outdoor Kitchens
Elevate Your Outdoor Living
An outdoor kitchen is the key to maximizing your outdoor spaces, turning them into areas as enjoyable as your indoor living spaces. To achieve this, you need a well-planned and expertly installed outdoor kitchen that not only expands your indoor living experience but also adds functionality to your outdoor space. That's where Oak City Outdoors comes in.
Your Outdoor Living Experts
At Oak City Outdoors, we've been at the forefront of crafting exceptional outdoor living spaces in Raleigh, NC, for over 35 years. Our expertise extends to individual property owners, contractors, developers, architects, and general contractors. We understand that every outdoor space is unique, and each client has distinct desires. If you're in search of professional outdoor kitchen design and planning services, we are the local hardscaping experts ready to bring your vision to life.
Custom-Designed Outdoor Kitchens
We specialize in crafting customized patio kitchen designs that seamlessly bring the comfort of indoor living to your outdoor oasis. Our plans often include thoughtful elements like fire pits, seating walls, and functional kitchen countertop layouts. Our hardscape designers are meticulous in creating outdoor features that balance practicality with durability.
We prioritize aspects like movement flow and use top-grade materials in our work. Whether it's designing and installing pavers for outdoor kitchens or strategically positioning appliances, our focus remains on creating a comfortable, functional, and long-lasting space. If you have the room, we can also incorporate full-scale kitchen islands into your outdoor kitchen layout, a popular trend in outdoor kitchen design.
High-Quality Outdoor Kitchen Planning Services
We work with an array of materials, including stainless steel, cultured stone, quartz, granite, marble, tiles, exotic & reclaimed wood, butcher block, and more. With a wide range of outdoor kitchen products and materials available, our team takes the time to guide you through the benefits and considerations of each. We recommend the use of products covered by manufacturer guarantees and stand behind our work with warranties, ensuring the job is done right the first time.
During the planning phase, our focus is on practicality, functionality, ease of maintenance, and aesthetics to create outdoor kitchens that stand the test of time.
Professional Outdoor Kitchen Installers
Each project is executed with the same level of precision and efficiency. Our onsite supervisors and project managers ensure every job is completed to industry standards. Oak City Outdoors sources top-grade hardscaping and masonry materials from trusted suppliers, ensuring your patio kitchen is superb in every way.
When you're looking for a unique, cost-efficient outdoor kitchen construction, you've found your perfect partner in Oak City Outdoors. For more information about our comprehensive range of services, please don't hesitate to contact us at 919-610-1755. Alternatively, you can reach us through our Online Form, and we'll respond promptly.
Elevate your outdoor gatherings and ambiance with our exceptional outdoor kitchen solutions.